Each year the Chamber accepts nominations for individuals and businesses for their efforts in the community as Chamber members.
Criteria for Selections:
Organization of the Year
Members give back to the community, to make it a great place to live and raise a family
Donations of time and money are made throughout the year.
Respected by the community
Positive community attitude
Manufacturing Software of the Year
Chamber involvement (volunteering including employees)
Location Upgrades
Business Promotions
Contributes to the chamber
Contribution to the community
Utilizing other chamber business (networking)
Chamber Member of the Year
Meeting attendance
Volunteering for activities
Overall contributions to the chamber
Community involvement
Respect of fellow chamber members
Citizen of the Year
Obvious community involvement
Positive community attitude
All non profit organization enrollment
Respect earned for volunteerism
Respect earned from citizens of Prescott
to for annual Chamber Award Nomination details.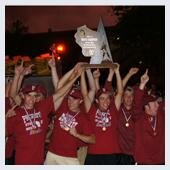 Prescott Area Chamber of Commerce, 237 Broad St., Prescott, WI 54021
715.262.3284 . info@prescottwi.com
This site brought to you by M-Vision Web Design